Since this week is free choice I decided to talk a little bit about football (soccer). My favorite football team is Borussia Dortmund.
                      The team is from Dortmund, Germany and is in my opinion (you could easily argue but that's not the point) the best team in the world. You should become a Dortmund fan NOW. We have world class players like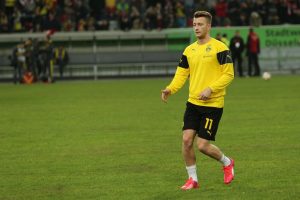 Marco Reus, Aubameyang, or even Shinji Kagawa. Our goalkeeper, Roman Bürki, is a great goalkeeper. In addition, you will be mind blown by the fervor of the fans. The stadium even holds an attendance record as this quote from Wikipedia says: "It holds the European record for average fan attendance, set in the 2011–2012 season with almost 1.37 million spectators. Sales of annual season tickets amounted to 55,000 in 2015″. I know Wikipedia can sometimes be off but trust me on this one. In conclusion quit supporting the bad teams like Real Madrid or Barcelona, pfff who even supports them. Come join BvB (Dortmund) now because as our slogan says, we will offer you "echte liebe" (true love).
Works Cited:
"Westfalenstadion." Wikipedia, Wikimedia Foundation, 6 Nov. 2017,       en.wikipedia.org/wiki/Westfalenstadion.
Hpgrusen. "BvB Club Flag Black Yellow." Pixabay.org, Pixabay, 3 May       2013, pixabay.com/en/bvb-club-flag-black-yellow-1322728/.
Reckman, Tim. "Marco Reus." Flickr, Yahoo!, 24 Jan. 2015,                               www.flickr.com/photos/foto_db/16204330530.